We are passionate about your smile! We provide a range of services in a fun and caring atmosphere.
We aren't just about the destination; we love the journey towards an amazing smile and bite.
---
Winnipeg's Orthodontist for Over 20 Years!
Whether you're considering treatment for yourself or your child, our River Heights orthodontics team will ensure that you always find understanding and passionate care for you and your family. 
Our orthodontist is committed to the Winnipeg community. That is why he has been bringing smiles to every patient who walks through our door. Our fun atmosphere is complimented with compassionate, personalized treatment for all patients.
If you are looking for an orthodontist in the River Heights or Winnipeg area, please contact our office for a complimentary, no obligation consultation.
Learn More About Our Office
Book Now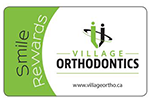 Discover Our Smile Rewards Program
We want you to have fun during your treatment. Learn more about our Smile Rewards Program available to all of our patients! » Learn More
---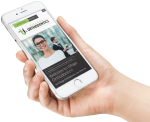 Manage Your Treatment With Our Mobile App
Village Orthodontics mobile app keeps you directly connected wherever you are. It provides you with instructions and communication to keep you informed during your treatment. » Learn More